TWO DIFFERENT EARLY EUROPEAN PERSPECTIVES ON TOBACCO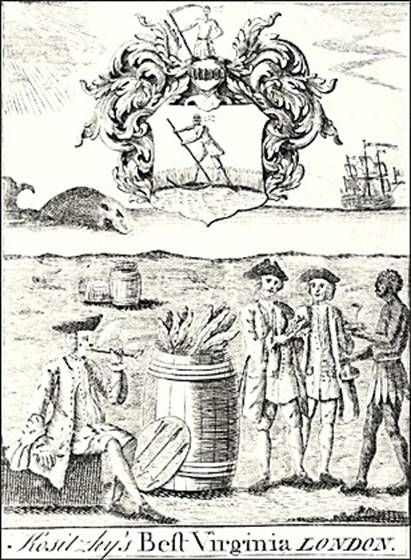 Thomas Hariot, A Brief and True Report of the New Found Land of Virginia, directed to the investors, farmers, and well-wishers of the project of colonizing and planting there. Imprinted at London in 1588.
There is an herb called uppowoc, which sows itself. In the West Indies it has several names, according to the different places where it grows and is used, but the Spaniards generally call it tobacco. Its leaves are dried, made into powder, and then smoked by being sucked through clay pipes into the stomach and head. The fumes purge superfluous phlegm and gross humors from the body by opening all the pores and passages. Thus its use not only preserves the body, but if there are any obstructions it breaks them up. By this means the natives keep in excellent health, without many of the grievous diseases which often afflict us in England.
This uppowoc is so highly valued by them that they think their gods are delighted with it. Sometimes they make holy fires and cast the powder into them as a sacrifice. If there is a storm on the waters, they throw it up into the air and into the water to pacify their gods. Also, when they set up a new weir for fish, they pour uppowoc into it. And if they escape from danger, they also throw the powder up into the air. This is always done with strange gestures and stamping, sometimes dancing, clapping of hands, holding hands up, and staring up into the heavens. During this performance they chatter strange words and utter meaningless noises.
While we were there we used to suck in the smoke as they did, and now that we are back in England we still do so. We have found many rare and wonderful proofs of the uppowoc's virtues, which would themselves require a volume to relate. There is sufficient evidence in the fact that it is used by so many men and women of great calling, as well as by some learned physicians.
James I of England, "A Counterblaste to Tobacco."
Have you not reason then to be ashamed and to forbear this filthy novelty, so basely grounded, so foolishly received and so grossly mistaken in the right use thereof. In your abuse thereof sinning against God harming yourselves both in person and goods, and raking also thereby the marks and notes of vanity upon you by the custom thereof making yourselves to be wondered at by all foreign civil nations and by all strangers that come among you to be scorned and held in contempt; a custom loathsome to the eye, hateful to the nose, harmful to the brain, dangerous to the lungs, and in the black stinking fume thereof nearest resembling the horrible stygian smoke of the pit that is bottomless.